Tickets for three Fall 2017 shows are on sale now to Colonial Members!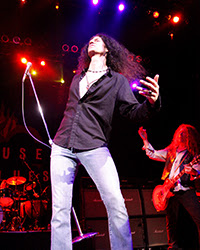 Get the Led Out
Saturday, September 9  |  8:00 PM
Get The Led Out is a group of professional musicians who are passionate about their love for the music of Led Zeppelin. It's been their mission to bring the studio recordings of "the mighty Zep" to life on the big concert stage. This is not an impersonator act but rather a group of musicians who were fans first, striving to do justice to one of the greatest bands in rock history! Simply put, Get The Led Out delivers the goods!
  $40/$36           
On sale to MEMBERS ONLY June 5 at noon.
On sale to the general public June 9 at noon.
An Evening with Graham Nash
Thursday, September 28  |  7:30 PM
The Colonial Theatre is honored to present legendary singer-songwriter GRAHAM NASH in what is sure to be a memorable evening. Nash is a two-time Rock and Roll Hall of Fame inductee with Crosby, Stills, and Nash and with The Hollies. He was also inducted into the Songwriter's Hall of Fame twice, both as a solo artist and with CSN, and he is also a GRAMMY Award winner. Presented by DSP Shows
On sale to MEMBERS ONLY June 5 at noon.
On sale to the general public June 9 at noon.
Wynonna and The Big Noise:
Roots and Revival Tour
Friday, September 29  |  8:00 PM
Once dubbed by Rolling Stone as "the greatest female country singer since Patsy Cline," Wynonna's rich and commanding voice has sold over 30 million albums worldwide. A five-time GRAMMY winner, she has received countless charting singles, including 20 No.1 hits. Wynonna, along with her band The Big Noise, will be exploring the past, present and future of Wynonna's extensive 33-year career.
On sale to MEMBERS ONLY June 5 at noon.
On sale to the general public July 11 at noon.
To purchase tickets online:
Click the button above,
then enter your log-in ID and password.
Click "Tickets" at the top of the page.
Type "20172018MEMBER" into the Pre-Sale Access Code box and click "Add Code."
 Scroll down the page, find the event and purchase tickets.
Please note: You must use the email associated with your ticket buying/membership account at The Colonial Theatre in order for the access code to work. If you need to have an email added to your account or if you have any other questions, please call the box office at 603-352-2033. 
Tickets for the entire 2017-2018 season, which will be announced soon, will go on sale to
Colonial Members on
June 27
and to the general public on
July 11
.
________________________________________________________________________________________